Sale!
Full Spectrum CBD Sleep Tincture
$10.00 – $45.00 (Which size should I buy?)
Lack of proper sleep is one of the most significant issues we face today. We developed our Full Spectrum CBD Sleep Tincture to solve your chronic issues with poor sleep. Blended with a gentle dose of melatonin, our Full Spectrum CBD Sleep Tincture oil promotes deep relaxation, helping you sleep soundly all the way through the night*. Start getting the sleep you deserve with CBD tincture drops for sleep.
CBD tincture drops for sleep help you drift off quickly.
Melatonin blend to help you stay asleep.
No messy side-effects like next day drowsiness or dependency.
CBD tincture drops for sleep oil rapidly absorbs into your body.
Holistic Hemp™ now offers you a Full Spectrum CBD Sleep Tincture that tackles poor sleep with a potent formulation of top-quality CBD. Consider ordering CBD Tincture for Sleep with Holistic Hemp™ to add to your daily routine.
Most people do not get enough sleep. As a society we tend to burn the candles at both ends and a lack of getting proper rest and staying asleep stands as a major unsolved issue. Going without an adequate amount of sleep carries with it both short and long-term consequences. But many see results when they implement CBD Full Spectrum for Sleep. And in the short term, a lack of sufficient sleep can affect judgment, mood, ability to learn and retain information and increase severe accidents and injury. In the long term, chronic sleep deprivation may lead to a host of health problems, including obesity, diabetes, cardiovascular disease, and even early mortality.
Working our Full Spectrum Sleep Tincture into your nightly routine can assist you in getting proper rest so you can go about your day at full capacity.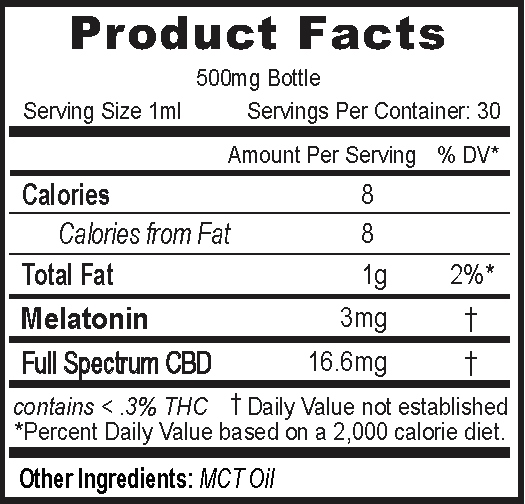 3 mg melatonin per serving
Manufactured in an A-rated cGMP and FDA registered facility
USA grown hemp
Organic farming practices
Non-GMO
Manufactured in the USA
Uses whole hemp extract
Unit-level 3-party lab test tracing through lot & QR codes
Non-psychoactive
THC levels less than 0.3% allowed by law
Order CBD Tincture for Sleep Online
At Holistic Hemp™, we believe that hemp-derived CBD products are changing people's lives. We founded Holistic Hemp™ to give people access to the highest quality CBD products in the market. We are committed to providing our customers with products that are effective, safe, and consistent. Our mission is for you to feel your best for the times that matter most to you.
Take back your overall health and wellness! Get the sleep you want, need, and deserve with Full Spectrum CBD Sleep Tincture TODAY!
We have answers to your questions!
CBD, short for cannabidiol, is a compound found primarily in the flowers and leaves of the hemp plant. It is one of many powerful cannabinoids found in hemp and has increased in popularity as people have begun to integrate CBD into their wellness routines to support their endocannabinoid system (ECS)*.
Among the many benefits that our users experience when using CBD Full Spectrum for Sleep, some of the main ones are a sense of calm and focus, relief from everyday stresses, help in recovery from exercise-induced inflammation, and support for healthy sleep cycles*. If you order CBD tincture for sleep, you can give it a try and see how these benefits might affect you.
CBD sleep tincture supports the function of your Endocannabinoid System (ECS). The ECS is a network in your body that works as a regulatory system by maintaining a sense of internal and external physical wellbeing by interacting with other bodily systems. The main function of the ECS is to help the body achieve homeostasis*.
The ECS has been linked to supporting the proper functioning of processes involved with appetite, sleep, mood, and memory. Cannabinoids, including CBD, work in conjunction with the ECS to support a variety of bodily processes and can help our bodies maintain a sense of internal and external balance*.
After shaking the bottle of CBD Full Spectrum for Sleep well, dispense a full 1 ml dropper of oil under your tongue. Hold the oil there for 1-2 minutes then swallow. Use right before bed for best results.
The general rule of thumb for dosing is that men need more than women and the heavier you are, the more CBD you will need to get the desired effects.
We recommend men start with at least a 500 mg bottle of CBD Full Spectrum for Sleep. Women may get the desired effects from a 250 mg bottle of Full Spectrum Sleep Tincture.
Start low and go slow. It can take weeks for CBD to build up in your system. If you think you may need more, take two droppers instead of one before moving to a higher dose bottle.
Sure! It's right here:
https://www.ncbi.nlm.nih.gov/pmc/articles/PMC6326553/
Each serving contains 3 mg of melatonin.
Yes, our Full Spectrum CBD Sleep Tincture products have a slight amount of THC in them, all less than the legal limit of 0.3%. Our CBD Sleep Tinctures are completely non-psychoactive.